Kneaders Breakfast Hours, Menu, & Prices
Kneaders Breakfast Hours & Menu: No matter how busy you are, skipping an important meal is never a good idea. That's why Kneaders Bakery and Cafe is the perfect solution for a convenient and wholesome breakfast to kickstart your day. Your day's quality depends on starting it off right, and Kneaders can help you achieve that.
With a variety of delicious cuisines that are new to your taste buds, Kneaders offers the perfect alternative to your regular breakfast routine. So, why not switch up your plans and energize your day with Kneaders Bakery and Cafe?
Here, in this article, we will discuss all the details about the Kneaders breakfast hours and menu.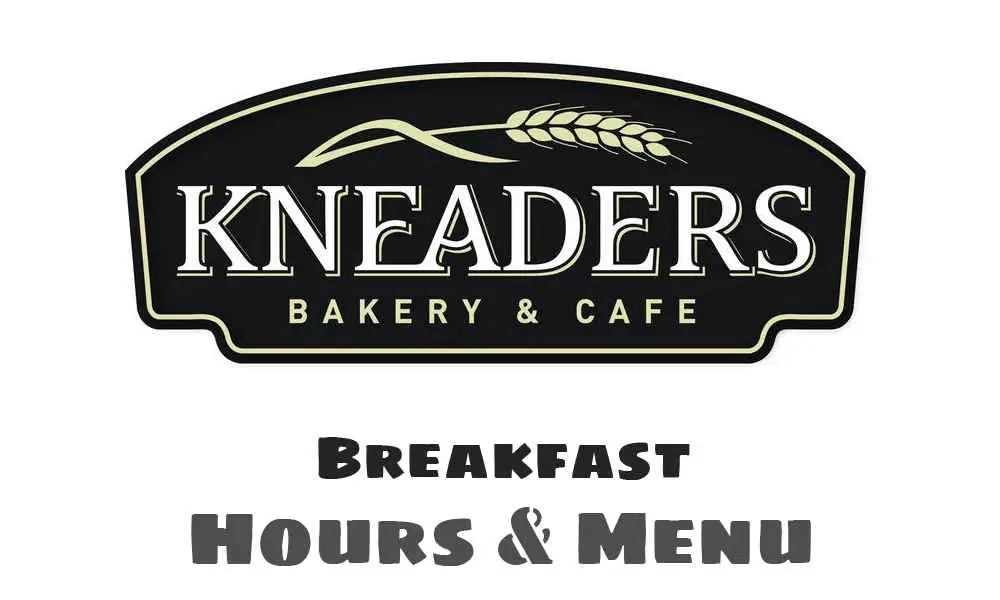 Kneaders Breakfast Hours
Kneaders serves breakfast seven days a week, but be sure to check the breakfast schedule for the specific location you plan to visit, as it may vary. This way, you can ensure that you don't miss out on the delicious breakfast options they have to offer.
| | | |
| --- | --- | --- |
| Day | Breakfast Opening Time | Breakfast Closing Time |
| Monday | 7:00 am | 11:00 am |
| Tuesday | 7:00 am | 11:00 am |
| Wednesday | 7:00 am | 11:00 am |
| Thursday | 7:00 am | 11:00 am |
| Friday | 7:00 am | 11:00 am |
| Saturday | 7:00 am | 11:00 am |
| Sunday | 7:00 am | 11:00 am |
Kneader breakfast time begins from 7 am to 11 am, including holidays. If you tend to skip breakfast, you should give Kneaders a try at least once – you're bound to be hooked. With breakfast service starting at 7 am, you'll never have to miss out on a nutritious meal due to time constraints.
Kneaders Breakfast Menu & Prices
It is important to know what is on the Kneaders breakfast menu before you head there to ensure that you have a healthy meal. The restaurant publishes a nutrition and allergen guide on its website, so you can make informed decisions when it comes to your health. Do check their breakfast menu table to get a clear idea:
Breakfast
Items
Price
American Omelet
$4.99
Chunky Cinnamon French Toast
$4.99
Croissant Sandwich
$6.59
Greek Omelet
$4.99
Irish Oatmeal
$5.19
Italian Omelet
$4.99
Mexican Omelet
$4.99
Pecan Pancakes
$4.99
Kid's Pancakes
$3.99
Sourdough Pancakes
$4.99
Pastries
Items
Price
Banana Chocolate Chip Muffin Top
$4.19
Carrot Pecan Muffin Top
$4.19
Chocolate Eclair
$4.19
Chocolate Mousse Dome
$4.19
Chocolate Strawberries
$2.19
Fruit Tart
$4.19
Hot Raspberry Bread Pudding
$5.19
Key Lime Tart
$4.19
Orange Cranberry Crumb Muffin Top
$4.19
Petite Carrot Cake
$5.19
Slice of Banana Cream Pie
$5.19
Slice of Coconut Cream Pie
$5.19
Slice of Fresh Berry Cheesecake
$5.19
Slice of German Chocolate Cheesecake
$5.19
Slice of Lemon Cream Pie
$5.19
Slice of Raspberry Cream Cheese Pie
$5.19
Slice of Rustic Apple Pie
$4.99
Southern Banana Pudding Cup
$4.19
Tres Leche Pudding Cup
$4.19
Cinnamon Roll
$4.19
Smoothies
Items
Price
Blueberry #5 Smoothie
$5.59
Goin' Guava Smoothie
$5.59
Strawberry Tsunami Smoothie
$5.59
Mango Tango Smoothie
$5.59
Mornin' Sunshine Smoothie
$5.59
No Dairy Berry Smoothie
$5.59
Pink Piña Colada Smoothie
$5.59
Razzleberry Smoothie
$5.59
Breakfast Sides 
Items
Price
Bacon
$1.50
Egg Whites
$1.99
Fried eggs
$1.50
Ham
$1.50
Sausage
$1.50
Scrambled eggs
$1.50
Strawberries
$0.75
Whipped topping
$1.50
Cold Beverages
Items
Price
Bottled Water
$1.59
Fountain Drink
$2.39
Fresh Lemonade
$2.99
Fresh Orange Juice
$2.99
Iced Tea
$2.39
Milk
$1.49
Hot Beverages
Items
Price
Americano
$2.99
Cafe Mocha
$4.99
Chai Latte
$4.59
Coffee
$2.59
Hot Chocolate
$3.79
Steamer
$3.49
Kneaders offers a wide variety of breakfast options, including hearty sandwiches, omelets, and delicious smoothies. For a healthier choice, their Irish oatmeal is a great option for weight loss. If you prefer a lighter breakfast, Kneaders' mouthwatering pastries and invigorating smoothies are a perfect choice to start your day refreshed. Choose Kneaders to enjoy a relaxing breakfast experience that caters to all tastes.
About Kneaders
Kneaders, a renowned food chain in the United States, are experts in baking artisan bread. Kneaders originally belonged to the town of Orem, Utah, where they began their first outlet in the year 1997. Within years they grew and expanded as a result of their honest and authentic cuisines. Today other than their signature eat,   their menu expanded to include sandwiches, soups, and a wide variety of mouthwatering pastries. Authentic culinary styles in baking artisan bread loaves set them apart in the world of tastes. Kneaders fills not only the craving tummies but also the minds through their charitable programs.
Kneaders Customer Support
Address:
Kneaders Bakery & Cafe Home Office,
871 South Auto Mall Drive,
American Fork, Utah 84003
E-mail Id: feedback@Kneaders.com
Golden Corral Breakfast Hours & Menu
Cracker Barrel Breakfast Hours, Menu, & Prices
Final Words
Kneaders is the perfect destination whether you are in need of a quick, on-the-go meal or craving something sweet. It is also a great option for vegan and vegetarian customers as the menu offers a few dedicated options. Overall, Kneaders is an excellent choice for recharging before a long day at school or work.
Sleep Inn Breakfast Hours & Menu
Denny's Breakfast Hours, Menu, & Prices
Kneaders Breakfast FAQ
Do Kneaders serve breakfast all day?
Kneaders breakfast is only available until 11 am daily, and it is not served all day.
Kneaders offers breakfast options with calorie ranges between 455 to 850 and protein counts ranging from 21 to 36 grams. To view the nutritional information of each item, visit Kneaders' official website and check out their nutrition chart.
References