Corner Bakery Breakfast Hours, Menu, & Prices
Corner Bakery Breakfast Hours & Menu:  Why Wait??? After overnight fasting, fill your tummies with a flavorsome breakfast. Breakfast is the wake-up call to begin a new day. Having splendid options begin a day will be awesome.
A good breakfast that too healthy will armor you to face the battle of the day. So don't hesitate to have the best in the morning. Come, let's break your fasting with Corner Bakery and replenish your energy store. Corner Bakery has many to offer you and your family.
Corner Bakery is an American café chain that offers varieties of pastries, sandwiches, and bread. Once you dare to taste Corner Bakery, your breadbasket cannot deny us. If you are not an early riser and poor in time, why worry? Corner Bakery is there with platters that meet your appetites.
Corner Bakery breakfast menu is pretty plain and simple, and they offer special dishes for our children and care for them as we do. Let our breakfast hours be as sweet as their dishes.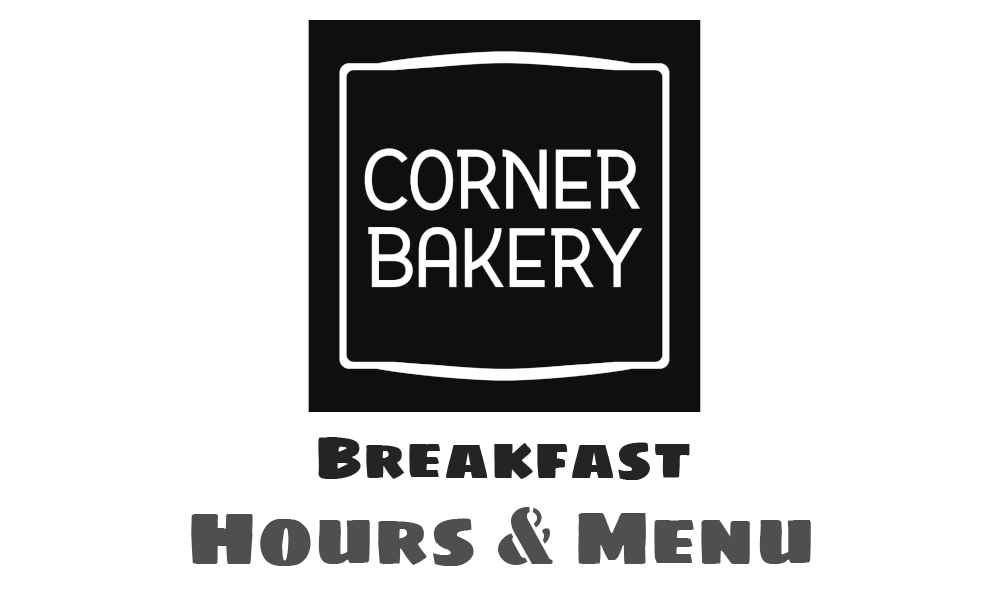 Corner Bakery Breakfast Hours
Breakfast is served seven days a week. There is a slight difference in time on Sundays. Do check the Corner Bakery breakfast hours table before stepping into the cafe.
| | | |
| --- | --- | --- |
| Day | Breakfast Opening Hours | Breakfast Closing Hours |
| Monday | 7:00 am | 9:00 pm |
| Tuesday | 7:00 am | 9:00 pm |
| Wednesday | 7:00 am | 9:00 pm |
| Thursday | 7:00 am | 9:00 pm |
| Friday | 7:00 am | 9:00 pm |
| Saturday | 7:00 am | 9:00 pm |
| Sunday | 7:00 am | 8:00 pm |
The breakfast time at Corner Bakery starts at 7 am and closes at 9 pm. On Sundays, they close an hour earlier than usual time. Their timing may vary according to location. We can taste their delicacies fresh as a morning dew throughout their service time.
Corner Bakery Breakfast Menu & Prices
Having more options than too, from light to heavy dishes, is one of the specialties of Corner Bakery breakfast menu. If you crave something light after your lazy morning sleep, this catalog of dishes is exclusively for you. Choose your favorite item and start your precious day with Corner Bakery.
Breakfast Bakery
Items
Price
Apple crisp croissant
$3.59
Bagels
$1.99
Chocolate croissant
$3.59
Morning Rush
$4.99
Muffins
$3.29
Strawberry &cream cheese croissant
$3.59
Morning Favorites
Items
Price
All American Scrambler
$8.99
Anaheim scrambler
$9.99
Bacon Avocado Egg bowl NEWI
$8.79
Blueberry pancakes NEWI
$9.49
Buttermilk pancakes
$7.49
Morning Rush
$4.99
Power breakfast egg bowl
$9.29
Oven baked Frittata bite pair
$4.59
Breakfast Sandwiches
Items
Price
Anaheim Panini
$6.99
Avocado & spinach breakfast wrap(V)
$5.79
Bacon Egg & Cheddar breakfast wrap
$6. 79
Bacon& Cheddar Panini
$6.99
BBLT &Egg sandwiches
$8.99
Sausage, egg & cheddar breakfast wrap
$6.79
Oatmeals and Yogurts
Items
Price
Apple and banana overnight oats
$5.49
Berry & almond overnight oats
$8.19
Blueberry Oatmeal – NEW!
$6.49
Fresh berry & yogurt parfait
$6.49
Steel-Cut Oatmeal
$5.49
Drinks
Items
Price
Almond palmer
$3.29
Bottled orange juice
$3.29
Bottled water
$2.79
Cold Brew coffee NEWI
$3.29
Espresso beverages
Fountain soda
$2.99
Han Hand roasted free
$2.29
Han Hand roasted free group size
$16
Hot tea
$2.49
Iced Americano
$3.39
Iced coffee
$2.79
Iced caramel macchiato
$3.79
Iced latte
$3.39
Iced tea
$2.99
Old fashioned lemonade
$3.49
Kids Breakfast
Items
Price
Kids' breakfast (scrambler)
$5. 39
Combo
$5. 39
Kids pasta
$5. 39
Sandwich
$5. 39
Breakfast Basket
Items
Price
Breakfast Wrap Box
$9.99
Breakfast Wraps Box
$70.00
Breakfast basket
$55-$90
Continental Breakfast Box
$7.99
California basket bar
$60.00
Chilled Berry Almond Overnights
$60.00
Classic breakfast w/ Breakfast Basket
$90- $140
Classic breakfast w/ Muffin & Bagel basket
$90- $140
Individual Berry Almond Overnight Oats
$7.99
Individual Fresh Yogurt & Berry Parfait
$6.99
Fresh Fruit Tray
$40.00 – $70.00
Fresh Fruit Medley
$30.00 – $50.00
The Big Scramble
$75.00
Muffin & Bagel basket
$45- $75
It's your choice to make your breakfast light or heavy. If you want to make it a heavy one, you can see baskets of dishes that are more than enough to fill your breadbaskets. For sure, these baskets will replenish your energy stores to kickstart the needs of the day. If you are a fitness freak, freak out for our breakfast baskets. These breakfasts are going to loosen our nuts for sure. Now pick out yours from the Corner Bakery breakfast menu.
Corner Bakery feeds you with the most splendid platter of breakfasts over the years. Corner Bakery is meeting hundreds of empty stomachs day by day and refueling them with their delicacies. What is more attractive about them is the quality and quantity that they maintained throughout these years. They have options for vegans and non-vegans and also for kids. Do the honor of choosing Corner Bakery to experience their secret recipes.
About Corner Bakery
Corner Bakery is an American café chain spread over more than 21 states like California, Florida, Georgia, etc. They specialize in pastries, loaves of bread, breakfast dishes, gourmet sandwiches, and customized foods for kids. They are always excited to give rewards and allowances to their customers. You can check out their sights to know more about the interesting reward plans that they have. Corner Bakery also has catering services, Home delivery, and outdoor seating. They serve you food filled with emotions, go visit them and kick start a fresh day with Corner Bakery.
Corner Bakery Customer Support
Address:
Corner Bakery,
12700 Park Central Dr #1300,
Dallas, TX 75251, USA
Phone Number: 972 619-4100
Final Words
Breakfast is the most important meal of the day. And if you have varieties of options before you, you will never think of skipping it. Corner Bakery breakfast menu is a blend of all popular demands. Corner Bakery is a second home where you can hang out with your dear ones. They give you the best of everything that you can expect. They treat customers as kings, and you will feel it once you visit them. It's all about a mouthful of love and breakfast blended with exciting taste buds.
Kneaders Breakfast Hours, Menu, & Prices
Sonic Breakfast Hours, Menu, & Prices
Corner Bakery Breakfast FAQ
What time does corner bakery serve breakfast?
From Monday to Saturday, Corner Bakery breakfast hours begin from 7 am to 9 pm. But when it comes to Sundays, they start at 7 am and close one hour early, that is at 8 pm.
How many calories are in a corner bakery sandwich?
The calories contained in the sandwiches of Corner Bakery can range from 500 Cal to 840 Cal. You can choose your sandwiches according to your preferable calories. Corner Bakery never compromises your health.
Does corner bakery serve breakfast all day?
Yes. Corner Bakery serves all-day breakfast seven days a week. They are open on all days from 7 am to 9 pm except on Sundays.
What is the corner breakfast at the corner bakery?
They serve Pastries, loaves of bread, Breakfast dishes, Gourmet Sandwiches, Homemade soups, salads, and pasta. They include more varieties of these. Visit them and enjoy a tasty ride with Corner Bakery.
Denny's Breakfast Hours, Menu, & Prices
Cracker Barrel Breakfast Hours, Menu, & Prices
Reference
en.wikipedia.org/wiki/Corner_Bakery_Cafe